Inductron II MPC power supplies take the guesswork out of matching power to work piece requirements. That is because we have more than doubled the operating range/flexibility of these units to give you more than 25 power/frequency options. Inductron II MPC power supplies are offered in single frequency and dual frequency configurations. Voltage source Inductron II MPC power supplies incorporate circuitry with high voltage semi conductors for long life, resulting in reduced downtime and higher production. Components are modular and accessible from the front of the cabinet.

Over 25 power/frequency combinations

Single, dual and variable frequency capability
Built-in diagnostic routines simplify servicing

20-function keyboard for easy data entry

80 character alphanumeric display

50 or 250 millisecond ramp speed

Two RS-232 ports to interface with PLC, PC or plant computer

Easy access to all components from front of machine

Door-on-door-design for operator safety
The right power to meet job requirements

Provides greater process flexibility

Reduces need for power factor correction
Maximizes uptime

Allows for quick and easy change-over to new process/parts

Tank circuit operates at lower voltages
Provides clear and concise status

Integrates easily into modern equipment and SPC systems

Allows power supply to be mounted against a wall or machine
Allows access to printed circuit board status LED´s without exposure to high voltage
Digital Interface Card

Channels for monitoring / display functions

All specifications subject to change without notice.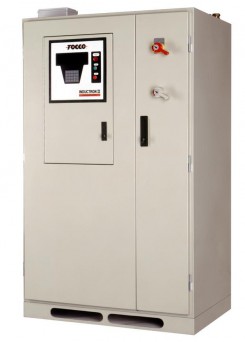 Frequency & Output Power:
Single Frequency
1kHz 250 - 1.000 kW
2kHz 200 - 800 kW
3kHz 200 - 800 kW
Dual Frequency
3 und 10kHz / 30 - 900 kW
10 und 25kHz / 50 - 300 kW
Electronic assembly
CMOS-type microprocessor-based with 20-function keyboard for data entry
We will be pleased to consult you on this subject. We look forward to hearing from you!