Types: 5 kW, 7,5 kW, 12,5 kW, 25 kW und 40 kW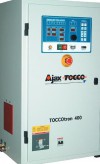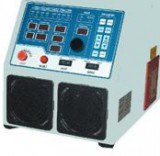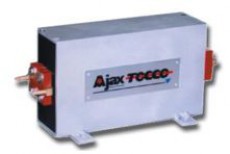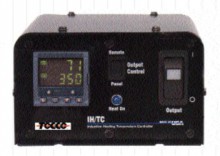 The TOCCOtron 400 delivers reliable heating at a frequency range of 135 to 400 kHz. Advanced design features incorporated in this compact MOSFET based power supply make it user friendly. Load matching is automatic, based on a swept frequency design. Load matching components are internal, creating a reduced footprint. The relative high frequency capability of the TOCCOtron 400 makes this power supply the ideal choice when heating very thin materials, or in processes requiring precise depths of heating.
Solid state MOSFET design
Tracks load resonance
Built-in solid state heat timer
PLC compatible communication port, RS-485 control interface
Reliable output from 135 to 400 kHz
Selectable output parameters meter
Readily accepts lightweight remote load matching devices
Remote loads can be mounted up to 200 feet away from the power source
Automatic limit and fault protection with annunciation
Automatic load matching
We will be pleased to consult you on this subject. We look forward to hearing from you!
Model
5 kW
7,5 kW
12,5 kW

25 kW
40 kW
RF Output power

5 kW continous

7,5 kW continous
12,5 kW continous
25 kW continous
40 kW continous

Frequency range

135 bis 450 kHz
RF Coil Voltage
0-500 V(rms)
AC line Input
230/400V AC / 50 Hz
AC line Power

5,7 kW
8,7 kW
14,7 kW
29,1 kW
46,3 kW
Water cooling requirements 3-4.5 bar 41° C

2 l/min
2 l/min
4 l/min
8 l/min
12 l/min
Distance to optional remote heat station

3 m standard; up to 15m (option)


Customer

I/O


24V DC PLC compatible; 0-10 V DC und 4-20 mA control input; built in digital heat timer (only 12,5 kW, 25 kW, 40kW)
Weight
ca. 25kg
ca. 50kg
ca. 68kg
ca. 78kg
Dimensions
L=600mm B=370mm H=360mm
L=310mm B=300mm H=490mm
L=390mm B=510mm H=920mm
L=390mm B=510mm H=920mm
L=390mm B=510mm H=920mm
Modell
5 kW
7,5 kW
12,5 kW

25 kW
40 kW
Ausgangsleistung
5 kW konstant

7,5 kW konstant
12,5 kW konstant
25 kW konstant
40 kW konstant

Frequenzbereich
135 bis 450 kHz
Induktorspannung
0-500 V(rms)
Netz-Eingang
230/400V AC / 50 Hz
AC Netzleistung
5,7 kW
8,7 kW
14,7 kW
29,1 kW
46,3 kW
Kühlung / Wasserbedarf 3-4.5 bar 41° C
2 l/min
2 l/min
4 l/min
8 l/min
12 l/min
Max. Entfernung für Anpasstransformator
3 m Standard; bis zu 15m (Option)

Schnittstellen
24V DC PLC-Schnittstelle; 0-10 V DC und 4-20 mA Schnittstelle (nur 12,5 kW, 25 kW, 40kW)
Gewicht
ca. 25kg
ca. 50kg
ca. 68kg
ca. 78kg
Abmessungen
L=600mm B=370mm H=360mm
L=310mm B=300mm H=490mm
L=390mm B=510mm H=920mm
L=390mm B=510mm H=920mm
L=390mm B=510mm H=920mm