From May 21, 2019 until May 23, 2019 we took part on the LÖT 2019 in Aachen.
This conference represents once again one of the world-wide leading conferences in this field. The conference brings together the professional world of joining technology in Aachen.

Further information can be found here.
Härterei Congress 2017 in Cologne

In 2017 and 2018 we were represented at the Härterei Kongress in Cologne together with our subsidiary Saet.

The HK Congress is one of the largest industry meeting of the heat treatment industry in Europ.

Further information can be found here.
In 2019 we will be exhibiting again.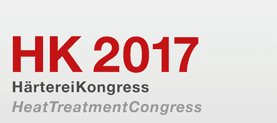 Erfolgreicher Messeauftritt auf der Tube 2016 in Düsseldorf

Auch in diesem Jahr waren wir auf der internationalen Rohrfachmesse "Tube" von 04. – 08. April 2016 in Düsseldorf vertreten. Gemeinsam mit unseren Tochterunternehmen SAET, Ajax Ceco, Pines und PMC Colinet sowie unserem amerikanischen Mutterunternehmen war der gemeinsame Messeauftritt ein großer Erfolg mit zahlreichen interessanten Gesprächen.
Durch die große Internationalität und Fachkompetenz der Besucher und Aussteller ist die internationale Rohrfachmesse eine ideale Plattform zum gegenseitigen Austausch und zur Entwicklung neuer Geschäftsbeziehungen.
Im Jahr 2018 wird die Messe Wire & Tube von 16. bis 20. April zum 16. Mal in Düsseldorf stattfinden.